Apple Design Awards 2007 Winner. Bundles all the great technologies that come with Mac OS X Tiger to give you a complete new workflow for reading scientific articles. You find, download, archive, and organize all your articles within a single application.
But that is just the start, using Spotlight you instantly find back the paper you are looking for. Read it fullscreen, add your notes, send a copy to a colleague. These are just a few of the many features that after using them yourself you will never want to give up again.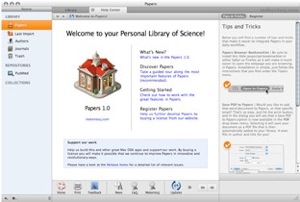 Do you have dozens of PDF files from your favorite scientific articles scattered on your harddrive? Do you also try to desperately organize them by renaming and archiving them in folders? But like the piles of printed articles on your desk, you can't keep up with all the new papers you download, and despite all your efforts it has become impossible to find that one article.
Finally that all belongs to the past. We've been there, trust us, we know. That's why we wrote Papers, our latest application exclusively for the Mac. Papers will revolutionize the way you deal with scientific papers. Search for papers using PubMed, directly retrieve and archive PDFs, and read and study them all from within Papers, your personal library of Science.
What's New in this Version
– Full-text, blazing fast Spotlight based searching.
– Improved and faster smart groups.
– Much better BibTeX support.
– Solved many bugs and stability issues.
– And much more…
Allready included:
– PubMed-Search-Plugin (more to come, SDK is available for free)
More, try or even buy for 29 Euro: http://mekentosj.com/papers
Nachtrag: Papers 1.5 steht kurz vor der Vollendung. Hier ein zwei Screenshots die auf coole Features hoffen lassen…